Since 1995 the annual "Fiesta de Los Peñasquitos" street fair and community parade have become the annual community high-light event in Rancho Peñasquitos, attracting over 15,000 people..
The Parade will open the festivities at 10 am which starts at Sun Devil Way and ends at the street fair on Black Mountain Rd (see map below). The parade highlights local community organizations, sports clubs, and school groups. It also features marching bands, including our local military, first responders, other music groups and our local representatives.
The street fair opens at 11 am on Black Mountain Road, between Carmel Mountain and Twin Trails. Featuring over 150 booths, two food courts, food trucks, carnival rides, and a car show, there is something for everyone.
Three entertainment stages of live music and performances, dance numbers and demos, showcase professional and local talent. And NEW this year is the addition of the PQ Beer Garden serving brews from local breweries.
On the Main Stage, the Rancho Penasquitos Town Council hosts an Awards Ceremony honoring our local Youth in Community Service, Volunteer of the Year and the Business of the Year, presented by our local dignitaries.
Admission is free and the event is open to the public-tickets for carnival rides can be purchased at the rides.
Riding bicycles and skateboards in the street fair is strictly prohibited.
Pets on a leash are ok but please be aware, the street is very hot and can be harmful to your pets.
VENDOR BOOTHS APPLICATIONS ~ ENTERTAINMENT APPLICATIONS ~ SPONSORSHIP APPLICATIONS ~ PARADE APPLICATIONS
Our annual Fiesta features four unique zones: the "family fun zone," the "adventure zone," the "community zone," and the "carnival zone."  Over 150 vendors provide arts & crafts, food, a Beer Garden, home improvement tips, a rock climbing wall and a Fiesta Fun Tent for children of all ages. There is truly something for everyone!
There are many ways you can participate in PQ's community festival:
Become a Volunteer and Fiesta Star! (or contact rzane@affairz-consulting.com)

CONTESTS & COMMUNITY AWARDS
Recommend a neighbor and local business for this year's Volunteer of the Year Award and Business of the Year award. Apply today
RPTC Elections – Run-Vote-Learn
2019 Fiesta de los Peñasquitos Parade Route: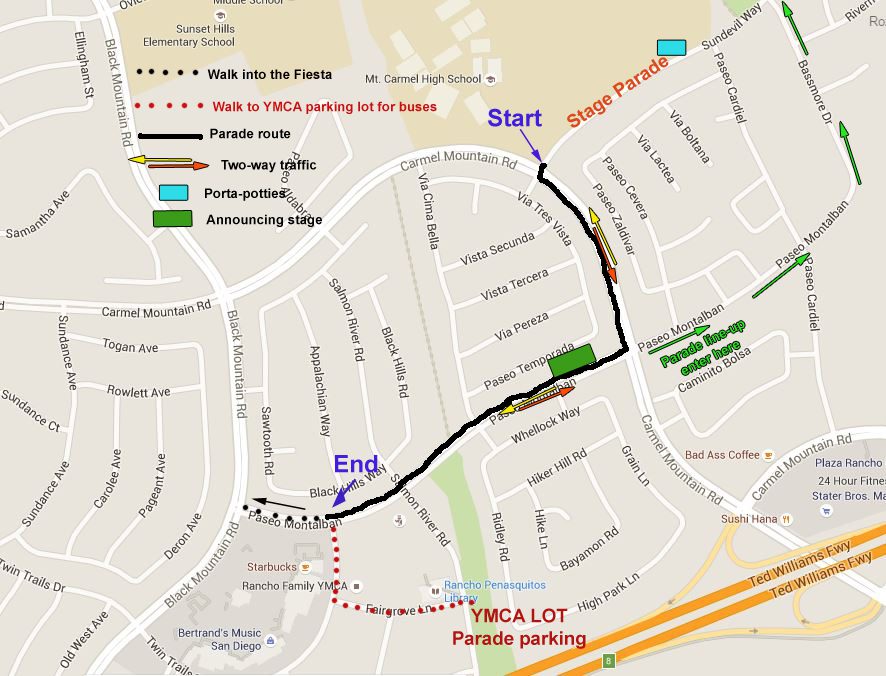 ---
Sunday, May 5th
4rd Annual Parade de Los Peñasquitos (Start at Mt. Carmel HS)
24th Annual Fiesta de Los Peñasquitos (Black Mountain Road between Twin Trails and Carmel Mountain Rd)
---
Please contact us with any questions! We look forward to celebrating with you!