We are very happy to announce the winners of the 2017 Youth Community Service Awards from the 12 local PUSD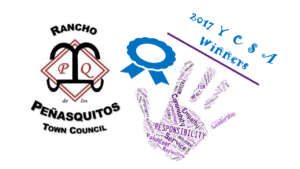 schools.  The kids community contributions and services will move, touch and inspire you!  Everyone in our community is encouraged to read these entries, leave a comment, share with friends and applaude these amazing kids for their initiative and innovative efforts to make a difference where they felt compelled to give back to people and organizations in and around Rancho Penasquitos.
READ THESE ENTRIES:
ADOBE BLUFFS – Lana Lippe
Lana Lippe displays the 6 pillars of Character each and every day. She is always helping others. Lana is very community service oriented and is an advocate for protecting and preserving our environment. This year, Lana began sponsoring and writing letters to a child in Honduras. As a sponsor, you get to make a monthly donation to provide food and education for her and her family. Lana has also donated her hair to Locks of Love twice because she wants to give to children who need it more than she does. Lana was Environment Commissioner two years ago and created and organized the Green Team (student clean-up and recycling) that is still running today! She continues to be an advocate of keeping Adobe Bluffs safe and clean. Raising money for the Wildlife Fund for saving the Sumatran Tigers and the White Rhinos is her latest project. Lana enjoys helping people, animals and the environment. I know Lana will continue to do much more over the years to come.
CANYON VIEW ELEM – Kai Brown
Kai truly embodies the characteristics of our six pillars of character: responsibility, respect, trustworthiness, caring, fairness and citizenship. Not only is Kai a model citizen at school, he is also involved in numerous activities and programs that serve our community. Kai volunteers his time two days a week to coach basketball for younger students in grades two and three. Kai actively collects recyclables and donates the money he receives to help our homeless. In addition, Kai is also an advocate for our students with disabilities, not only serving as a buddy to other students with autism, but he also participates in the annual Race for Autism. Kai is kind-hearted and truly cares about others. He perseveres when faced with a challenge and always has a positive attitude. Kai is very deserving of this community service award and we are honored that his efforts can be recognized by our school and community.
DEER CANYON ELEM – Madelyn Comstock
Community Service at School, D.C. Kids and Girl Scout community services food drive collection and distribution volunteer. a place that sorts food into three different categories. The first is food can be shipped to grocery stores. The second was food that was rotten to eat. The third is food that isn't good enough for stores, but can still be eaten. This food is then sent to homeless. My troop and I helped sort the food. My Girls Scout troop made blankets out of pieces of fabric. We brought the blankets to the animal shelter and got to visit with the animals. We learned how the animals were fed, and we had a lot of fun. Every year I run a PCRF race. This race donates the money that they earn to help find a cure for cancer. My family is on Team Benjamin. I enjoy running the race. Once, I had a lemonade stand with my grandma. We set it up near a community pool. A lot of people told us to keep the change . One man gave us $20. We donated all the money to Make-A-Wish, I took all of my old toys and clothes and donated them to Good Will.sh. During the Book Fair, I donated my extra money into a box that said "donations". It also said that the money would help the library buy more books. I thought that kids would like to have more books to read, so I donated my money. I was browsing through the books and decided to check Mrs. Regardie's wish list. I saw something that I thought the class would like. I purchased the book and then the recess bell rang. I headed back to class and went inside. I gave the book to Mrs. Regardie. She was pleased to have a new book for the classroom. I am in D.C Kids, and I help during the First Friday activities. Each First Friday, I leave class during the first graders' recess. Mrs. MacDougal usually has a table set up near the cafeteria. The weeks prior to the First Friday activities, we have D.C Kids meeting during lunch, and Mrs. MacDougal asks us what we want to do for First Friday. It's fun to help with First Friday activities. I have done a lot of community services and probably haven't listed them all, but these were the only ones I could remember. Anyway, community services are fun to do, and enjoy doing them. It's nice to do something to help the community.
LOS PENASQUITOS ELEM – Vincent Migliori
Vincent volunteers and serves on the Los Penesquitos Elementary Safety Patrol, and constantly is caught around campus modeling for and encouraging other students to be great citizens. Beyond school, Vincent takes advantage of any community outreach he can. Recently, with his church, Penasquitos Lutheran, he made 1,000 sandwiches for the homeless and passed them out around the Balboa area. Another self-motivated service project he has taken on, was selflessly asking for food donations instead of birthday presents to help stock the food bank at his church. Additionally, Vincent is also a dedicated boy scout. He is consistently looking for opportunities to give hack to his local community. He truly believes that it is our responsibility as humans to contribute to the world, especially to the community we live in. Los Penasquitos Elementary is honored to have Vincent as one of their outstanding students!
PARK VILLAGE ELEM – Abigail "Abby" Daines
Abby is extremely active in her community. A few of her volunteer efforts include, but are not limited to: Visiting a retirement home-singing, reading stories and playing checkers with residents. Made chicken pot pies for nurses, doctors and patients at Rady's (1x/week for a year) Joined Kid Korps Health to help sick children in need of food. Helped referee wheelchair basketball and lacrosse games. Trash clean up in PQ Canyon Participated in the Adopt-a-Family and Food for Thanksgiving school service projects Helped refurbish playgrounds at six schools Helped clean the library and repair books. Washed fire trucks after a fire.
ROLLING HILLS ELEM – Aylani Toy
I worked hand in hand with my troop to help stock local food banks as well as feed the homeless. I have spent 5 years as an active participant on my school's Associated Student Body, first as leader to my peers. Now, as ASB Secretary, I serve my school community as a role model. As an ASB representative, I strive to make my school community a safe and happy place to be for all. We worked together to conduct food drives and collect toiletries and household goods for families in need. We organized with each of our classrooms to make Valentine's Day Cards for the wounded warrior in our community, showing them that we are appreciative for all they have done for us. My fellow ASB members and I organized a spring clean up to make our campus look nicer. I worked together with other students to encourage donations to support the Angel Bins fundraiser, by donating a pair of shoes, we recycled the shoes we no longer used and raise funds for our school. I am also a member of the Rolling Hills Elementary School safety patrol. With my fellow safety members, our goal is to ensure every child makes it to and from school safely, by monitoring traffic and any suspicious activity that may occur, and then report it to school staff. I put my heart into everything I do. I know that the little ripples I have created in helping my school and community will eventually grow into waves of impact in our community of Rancho Penasquitos.
SUNDANCE ELEM – Gabrielle (Bre) Poncey
Bre has established and maintained a girls' study group named S.I.A. – Sundance Intelligence Agency – with the goal of helping 4th & 5th grade girls with essential life skills of helping one another, not merely letting an individual struggle and fail. (Visit http://jesselford.wixsite.com/girls-study-group.) Started in 4th grade, she invited all girls in her grade level. To accomplish Bre's goal of leaving no one staggering behind, they continue to meet weekly, encouraging those done with homework to aid those who may not be finished. When all members have finished their homework, they are allowed to play games, which further motivates members to study and help other members finish. Bre learned that helping others helps yourself in the end.
SUNSET HILLS ELEM – Samantha Song
Samantha Song is an active member of the Sunset Hills community. She is a member of the school safety patrol and is a kind a caring school citizen. Samantha is also a member of a special choir, Love in Motion. Love in Motion is a signing choir whose mission is to inspire and encourage hearing and deaf people who are in the choir. The choir provides people with a visual opportunity to experience American Sign Language combined with drama and choreography. Samantha practices and performs with this choir regularly. Samantha is worthy of this award because she gives of her time an energy to this worthy organization.
BLACK MNT M S – Annelise Melahn
Annelise Melahn has volunteered over 80 hours this school year in our community. She gave her time to philanthropies and local schools such as Operation Provider, Chelsea's Run, Sunset Hills Elementary School and The Arbors Assisted Living Community. Annelise also spends a lot of her time volunteering at her church. She is kind, compassionate and demonstrates what it means to truly give back to your community.
MESA VERDE M S – Siana Scheidegger
Throughout the past couple years Siana has
participated in many community service activities. For her Girl Scout Bronze award she decorated and donated over 30 medicine boxes to the Kaiser Permanente Hospice Care program. She had to collect shoeboxes, wrap them with fabric, and decorate them. Overall,the hours of this project totaled to be roughly 35. For her next big project, (Silver Award) she built and painted a bookshelf for the San Diego Rescue Mission. Along with that, she set up a book drive at Deer Canyon, a local elementary school, and donated hundreds of books to the shelter. She loved helping the community, and although it was a timely project that included more than 50 hours of service, she decided to try and work for the Presidential Gold Award. This year she has been interning at the San Diego Dance Theater.
weekends helping out at their dance shows and participating in many events such as Trolley Dances and Jazz festivals.
Mt. Carmel HS – Garrett C Weir
Actively serving my Rancho Penasquitos community, church and school has been at the core of my high school activities.
As an Eagle Scout with a Silver Palm and Brotherhood Honor with Order of the Arrow (which is the Service arm of Boy Scouts), I either led or participated in the following service activities this past year: Flag Placement at Ft. Rosecrans, Scouting for Food (which benefits Second Harvest), I Love a Clean San Diego Beach Clean Up, San Diego Scout Fair, at the San Diego Food Bank and 6 work crews and Eagle Scout projects that benefitted PQ Poway Schools and PQ Canyon Preserve.
Outside of Scouting, I started Letters of Love(LOL) where last year, the residents of Villa Pomerado received greeting cards for the following holidays: Easter, the 4th of July and Thanksgiving. Cards are purchased from the Poway Thrift Shops or are donated and a small team of friends from church and school hand sign and then distribute them to the residents. Each visit is a joy, because so many of our seniors in these care facilities get very few visitors and we bring friendship and joy to their days.
Penasquitos Lutheran Church is where I am an active music worship and youth leader, serving as mentor, guide and leader to our junior & middle school on Confirmation Camp Staff and Vacation Bible School Recreation staff. Additional volunteer efforts this year have been: Silent Auction volunteer for our preschool, World Vision Sponsor, Fall Harvest Day and the summer Community Bunch for Lunch kidzone leader, delivering backpacks to San Diego homeless living downtown, sorting donated items for the annual rummage sale and packing supplies for our Honduran missionaries to take to the terminally children at San Pedro Sula hospital.
While at Mt. Carmel, I have been involved in the following: Classical Ensemble and Friendship Club. Through Classical Ensemble (which is the audition only mixed chamber group) we sang numerous times for PTA events, Veteran's Day celebrations, PUSD District functions, RB Women's Group and the Christmas Women's Dessert Tea for Penasquitos Christian Preschool. Through Friendship Club, we make sure the kids with special needs are an integral part of the Mt Carmel family. Joseph first saw me as "Lumiere" in Beauty and the Beast and asked me to be his special friend. I walk with him between classes, have lunch with him and have spent his birthday with him. I will miss him immensely next year when we both move on, but he has a special computer he can use to "write" letters, so I know we will keep in touch. Joseph is my biggest fan and I won't go far in this world without him as my friend.
While my Eagle Project was completed in 2013, my Eagle Service Project benefitted Black Mountain Middle School Choir Program, where I received a RP Town Council Grant to help fund it. Thank you!
WESTVIEW HS – Meilynn Shi
I don't go anywhere without my Sony voice recorder. It's growing old. It's on-off switch is broken, so I turn it off by manually flipping the batteries. Everyone reminds me that I live in the 21st century and can use something called a smartphone.
But I like my recorder. It's my partner in crime, my voice of reason, and my source of truth, reminding me what it means to be both a journalist and a citizen. I began writing for our school newspaper, The Nexus, my freshman year. When we noticed inefficiencies in school tech funding, I met with administration to better understand the district's budgeting process.
After our superintendent was fired for alleged financial improprieties, I followed the district's plans for rebuilding transparency and trust. When Albertsons reacquired an anchor grocery store near our school, I spoke with the Federal Trade Commission about antitrust regulations and with surrounding businesses that were impacted. I learned to broach sensitive topics, ask bold questions, and challenge perspectives. Shortly after my article on tech funding was published, the district began sending surveys to gather student input on classroom technology. I realized then that as a student journalist, I had the opportunity to not only write about what happens but also enact change.
Last school year, while writing about school waste diversion, I found that each week, we threw away hundreds of pounds of food on campus. I approached our cafeteria supervisors about donating leftovers, but, fearing liabilities and operational difficulties, they turned me away. But I couldn't let the conversation end when our surplus could help those who needed it most. For the next six months, I researched government policies, spoke with EPA officials, and contacted food recovery programs across the nation, doggedly in pursuit of a procedure that would work for our school. Slowly, the conversation began to shift from one-sided proposals to collaborative logistics. I led our staff in joining the EPA Food Recovery Challenge, partnering with food pantries, optimizing food handling procedures, and creating a model for other schools to follow. I led our environmental club to build campus gardens and encourage local businesses to adopt greener practices. Since then, we've donated more than 12,000 food items to low-income families across San Diego.
Student journalism paved a way for me to engage in and empower my community. I pushed boundaries and reshaped perspectives, bringing awareness to the realities of food waste and food insecurity. I created a team, and together, we're stirring action, inspiring each other, and striving to make our community a better place. The world is full of stories, bits of truth swept under the rug. Some point to loopholes and inequities,others rally for change and solutions, and others bring warmth and understanding. Only stories have the power to do that. With my voice recorder in hand, I found a way to leave my own legacy, by walking through the world with open ears, sifting through the noise, and giving a voice to the unheard.
We are asking all parents of the winners to please sign and return the photo release form herein.